Hey y'all! I'm here for my daily post 🙂  I have a couple things to share.
First, I'm embarking on an exciting new project within Elle Everyday – a Contact Me page! I just recently started developing an About page because I didn't want to share too much information about myself before, but now I am willing to share my likes, dislikes, etc. to anyone who feels interested in it. I've never wanted to have a Contact Me page on my blog because I didn't want to have to deal with a bunch of junk coming through my email, or people I don't want to get in contact with getting in contact with me. For me, the comments were enough. But I decided that it would be a little easier to incorporate more suggestions and support into my blog with more of a Contact page. I'll still suggest that for conversation, everyone head to the comments. I LOOOVVVVEEEE comments. But if you want to get in touch directly, please click on the coming soon Contact page.
Also, fall is blowing in here in Georgia! Here in the mountains we have been having freezing (Literally. Like, below 32) temperatures during the night, and temps in the 40's during the day. We have had frigid winds, along with 6% humidity, which is about 10 percentage points lower than the low side of our house in South Dakota's humidity. (And in case you didn't know, South Dakota is the land of dryness) The dew point is right about -17 degrees Fahrenheit. Meanwhile, we have been going through what could very well become the Drought of the Century. (No kidding. The newspapers are actually coming up with stats that say that with only a little more time it will be the Drought of the Century) I hardly remember what rain looks like. People around here have taken to counting on their fingers the number of times it rains. And so far, since spring, the folks around here have been able to count on one hand. Yep. Less than five times. Quite miserably dry and cold.
And, I tried something very new and strange at the food pantry today while I was volunteering. So, you've probably heard of chia seeds. Health nuts use them. They get put in smoothies, shakes, and even in recipes as vegan egg replacements. They swell when put in liquid, causing them to look somewhat like quinoa/roach eggs. Yeah. But they're actually really healthy, and their flavor isn't bad. So, my mom got this little "chia pod" thingie. None of us knew what it really consisted of. So we all tried it, being adventurous like my family tends to be. But it was my mom's idea. So I decided to post a review about it. (By the way, I normally don't like banana-flavored things. So I normally don't eat them. But my mom picked this, so it was banana. Although she probably would've picked chocolate if she had the choice.)
Banana Chia Pod from The Chia Co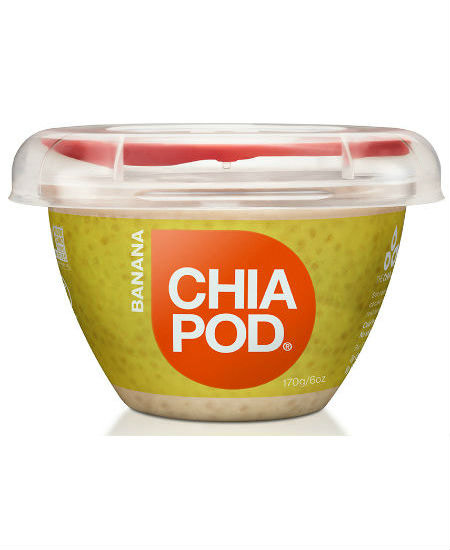 Pros

Very healthy
Sweet banana taste
REAL bananas
NOT fake banana flavoring, which is what I don't like
Spoon included
Handy packaging
No added sugar
No other added junk
Everything's pretty pure
Omega-3s
Fiber
Vitamin B6
Vitamin C
Potassium
No MSG
Three ingredients
There's other flavors

Cons

Kinda ugly
Slimy texture
Very expensive
Hard to find
NOT appetizing until you take a bite
Spoon is small, but realistically, you don't need a big one
The taste doesn't match the looks
Chewiness that's kinda weird
Just the awkwardness of the texture
That's all I've got today! See you soon!